Is it Possible to Recover Deleted and Overwritten CCTV Footage?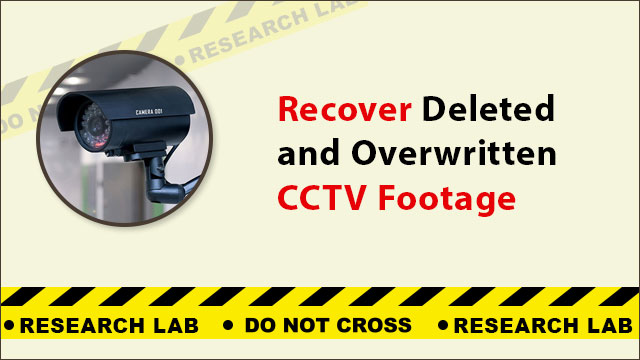 Whether you want to protect your assets, need constant monitoring in public places, etc, CCTV seems to be the best option. And for police, it acts as an additional eye to watch over the criminals and/or other intruders. However, is it possible to delete and overwrite the CCTV footage permanently? If yes, then how is it happening? Most importantly, can you recover the deleted and overwritten CCTV footage? As CCTV could contain crucial information at some point in time, finding the answers to the questions becomes essential.
Let's first discuss the areas where CCTV cameras play an important role.
CCTV Footage Used For Surveillance
Everybody these days are updating themselves with the latest digital technology. So, let's see where these modern eyes are utilized.
1. At Public Places
Think of any public place, you are going to find a CCTV camera. Whether it's malls, railway stations, zoos, etc. It may sound uncomfortable, but wherever you go these eyes follow you. However, the purpose of using video surveillance is to protect the citizens from any kind of mishappenings. 
2. Business Organizations
To secure the business assets and the employees, regardless of the size of the business, they use CCTV cameras.
3. In Shops
With the help of these digital eyes, many shopkeepers caught thieves who tried to steal their items from their shops.
4. By Individuals
With the surge of house thefts, people are now preferring to install CCTVs for their convenience.
5. Traffic Lights
Has this ever occurred to you? That you reached home, took off your helmet, and suddenly received a notification from the traffic department to pay the penalty for crossing the red light. Well, now the traffic police are also monitoring your speed limit, traffic light violation, etc.
CCTV Footage Helpful in Oversight of Criminal Activity 
Most importantly, CCTV plays a crucial role in the security of our country. The CCTV video recording is 24X7 active at our borders, politicians' houses, parliament, etc, thus keeping an eye out for suspicious activity. Well, there are also so many other places that use CCTV cameras.
However, you might have encountered a situation where surprisingly some of your CCTV footage went missing, then, the following question might have come to your mind.
Does the CCTV Footage Get Deleted or Overwritten Automatically?
The answer is no. Though CCTV deletion is manual, certain conditions make the CCTV videos go away from their destinations. Such as:
Your storage device is making room for new footages

Overwriting may delete a certain video
Here another question arises, why CCTV recordings are deleted or overwritten from their location?
Most Common Reasons of Deletion or Overwriting of Recorded CCTV Footage
After the camera records the video, it stores it in the local hard drive, cloud server, or offline server. Oftentimes the CCTV footage is not found in their place. And its cause could be one of the following:
Someone tried to hide their wrongdoings especially crimes, so intentionally deleted the footage.

A malware attack can erase the video

Erosion in storage devices e.g. HDD or SDD

Environmental causes like rain or fire can damage the footage

The unconscious deletion can also be the reason
As you already know overwriting can also damage the actual footage. So, can you say deletion and overwriting both are the same?
Let's find out!
Deletion vs Overwriting of CCTV Footage
Let's come to the technical part.
DVR (Digital Video Recording) systems (built-in multichannel) on hard disks are the final location for the video recordings. Basically, a hard disk consists of sectors, and the size of these sectors is usually 512 bytes.
When you delete a file from the hard disk, in reality, it makes space for new files. That is there is a possibility of recovering these files as the path still exists in the physical sector.
However, if a new file takes place on the empty space, that is overwritten. Then it is not easy to recover the files.
Fortunately, if there is a situation of CCTV footage deletion then you can restore the same by taking the help of an IT expert.
How to Recover Deleted and Overwritten CCTV Footage? 
Losing CCTV shots can be extremely disappointing especially when there is a need to refer for evidence, trace a criminal, or even revisit a funny incident. 
So, in such circumstances, using the professional help of Anuraag Singh can guide you to safely retrieve deleted CCTV footage. 
Since CCTV camera writes in frames i.e. in FPS (Frames Per Second) the quantity of the frames could be quite a lot. Also, there are minor differences in content between consecutive frames. Hence he can reconstruct the videos (the cases where some frames are physically overwritten) on the basis of the remaining frames.
Here are some methods that he follows to carefully recover the video recordings.
From Backup
If you have separate backup storage for the CCTV recordings, then he can retrieve the videos by directly selecting and moving them to the DVR hard drive. However, the expert suggests you store footage in various storage devices.
With the Help of Software
If you don't have a backup then he can recover your desired recordings by using the software. Here his experience hands can retrieve permanently deleted, even deleted PST files. 
Utilizing CMD
By various CMD (control prompt) commands, he will be able to regain the deleted videos.