How to Avoid Fake Job Scams?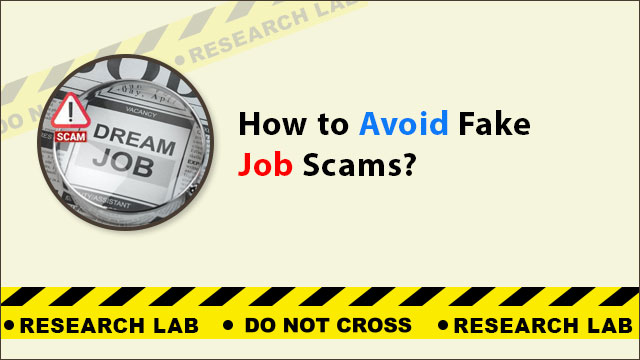 These days, social media platforms provide much more than the ability to share content with friends and family, such as images or messages. Facebook, Instagram, Twitter, and even WhatsApp are increasingly becoming virtual canters for connecting. And these platforms are for marketing, connecting with companies, and even providing locations to locate employment and connect with qualified candidates. Nowadays cybercriminals defraud people through fake job scams. As a result, it will lead to identity theft and monetary loss. Therefore, the digital world is expanding people's exposure to cybercrime, but it also has a larger reach. However, it is much more unsettling because one cannot see the person on the other side of the screen. 
Let's understand about this cyber fraud.
What are Fake Job Scams?
While job scams have existed for as long as there have been job vacancies.  They have grown more common and sophisticated with the development of the internet and social media. 
Scammers may easily establish fictitious job listings and websites that appear authentic, and they frequently use fictitious names and email addresses to make their offers seem more plausible. In many instances, con artists may even stage interviews in an effort to obtain your personal information or persuade you to pay for a background check or training courses.
But, who are their targets?
Well, job scams frequently prey on vulnerable groups, like fresh graduates, retirees, and stay-at-home parents, which is one of its most nefarious elements. Due to their desperation to obtain employment or lack of prior job-seeking experience, these populations may be especially susceptible to fraud.
Types of Fake Job Offer Scams – How Scammers Operate?
Here, we will discuss a few types of fake scam frauds that are happening in India.
Work-from-home job scams: Although there are many various sorts of job scams, you should be aware of a few prevalent ones. The "work-from-home job scam" is one of the most popular, in which con artists promise you the chance to work from home and earn a lot of money with little effort. These frauds frequently demand upfront payments for training or equipment, and the promised service never occurs.

Fake job posting: A frequent fraud involves fake job postings. Afterwards, they'll ask you to pay a fee to apply or submit a background check. Fraudsters will post phony job vacancies on reputable job boards or develop their own job board websites. Scammers will occasionally stage interviews in an effort to obtain your personal information.
News Related to Fake Job Scams
As per the indiatoday.in, A 26-year-old lady from Maharashtra lost Rs 5 lakh to an anonymous internet fraudster that she met on Instagram as she was going through the app and noticed a job posting. 
The woman clicked on the job post to learn more about the opportunity, and she was sent to a website. The website also instructed her to make a payment in order to start the task. She attempted to get in touch with the job provider after carefully following all the directions and filling in all the necessary information. 
Yet to her horror, she got nothing back. Then she realized she had been duped since she was unable to reach the person at the number given to her. Afterwards, she complained about online fraud. The woman followed the directions and completed the form, even using the internet to make a payment. According to the report, the woman paid Rs 5,38,173 in total over the course of the following six days.
How to Avoid Fake Job Scams in India? 
In India, this scam can be avoided by following these suggestions:
Go over the job description: LinkedIn and Glassdoor are a couple of the social networking sites mentioned for job searching. Yet in order to reach a larger audience, people also advertise opportunities on Facebook and Instagram. Read the job description to find out if it is real or false. Scammers will occasionally use clickbait job titles and salaries to entice victims. But they will often leave out or construct job descriptions that have no bearing on the work at hand.

Do a web search for the company's name: Even if the job description mentions the firm or includes a link to its careers page. It might be a phishing link. Scammers today attempt to make everything appear real. So make an effort to search and check everything.

Always double-check the URL: Scammers frequently copy the names and websites of well-known firms. The landing page resembles a real website nearly exactly. Yet, by reading the web address, you can confirm its legitimacy. Moreover, review the website's content for faults including grammatical typos.

Never click on prompt advertising or links that you see online from unreliable or shady sources.

Avoid positions that demand payment in exchange for a guarantee of employment.

Fraudsters could request your private data, like your Aadhar, bank account number, or PAN card information. If you're not certain about the validity of the firm, be cautious while giving over this information.

Beware of bogus interviews: To obtain access to your personal information or persuade you to pay for a background check or training course, con artists stage interviews.
Conclusion 
In this blog, we learned how scammers make jobs as big weapons to lure people into their traps. If you are seeking for jobs you can directly apply on the official websites of reliable companies. Also, double-check the URL of the site and follow all the instructs provided in this article of fake job scams. One more thing you can do for your safety that you can take professional guidance from India's best cyber expert Anuraag Singh.