Instagram Scams – Protect Yourself from it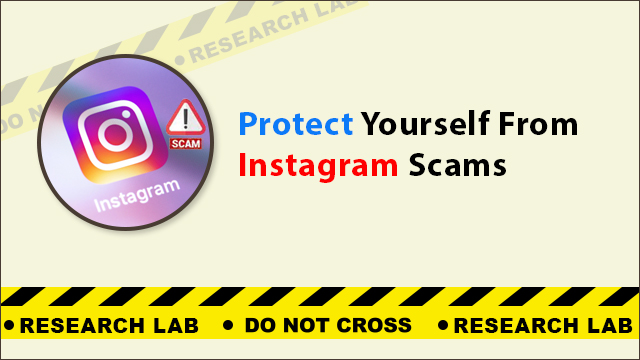 Online frauds have developed and become more misleading as our digital lives have expanded. And, Instagram scams are one of the numerous plausible techniques. Due to social media, it is simple for scammers to gain your trust by mimicking famous individuals or companies. These con artists may converse with you for weeks before committing their deception. However, this scam is increasing with time. Therefore, we all have to be aware of this scam so that we can save ourselves and our loved ones.
What are Instagram Scams?
Fraudsters use a number of techniques to force you to become the target of a theft or an assault. But Instagram fraud is particularly well-liked by scammers because of its enormous user base. These online thieves typically have a lucrative target in mind, such as cash or sensitive data. Whereas, Some people could even try to use you as a conduit to disseminate dangerous code to close friends or colleagues.
You'll ultimately be forced to make a choice that might have an impact on both you and the people around you. Problematically, it's not always simple to maintain rationality when dealing with Scammers. Successful con artists frequently appeal to your emotions while being trustworthy. The finest fraudsters pay meticulous attention to detail and make it difficult to question their veracity. 
Types of Instagram Scams
There are many different types of scams on Instagram that you must have to know for your safety. Let's shed some light on this:
1. Phishing scams: In a phishing scam, you can get an urgent direct message (DM) or email telling you that failing to respond could result in your Instagram account being "suspended." Moreover, scammers will pretend to be official Instagram customer support and try to persuade you that your account is in danger. 
Typical characteristics of phishing scams include:
notifications that your account is at risk

Requests for personal data, such as your login and password

Notifications requesting that you investigate "strange activities"
If you respond to an Instagram phishing message, they could be able to take over your account, steal your data, or extort money from you. It's crucial to never divulge any information to a website or account you're not too sure about.
2. Influencer scams: It is an another type of Instagram scams. There are several types of influencers on Instagram. Some are a lot of reliable influencers, but some of them set false identities to trick you.
Instagram influencer frauds have the following characteristics:
High-volume accounts with false followers and likes

profiles with pornographic profile photos

hawking financial products or investment opportunities
It's conceivable that the account was initially legitimate and has now been taken over by Instagram scammers trying to con others.
3. Lottery and giveaway scams: Scams involving phoney giveaways and lotteries are another popular practice on Instagram. These tricks are made to get your information while making you believe you've won a prize or competition.
Lottery and giveaway fraud frequently consists of:
DMs wishing you luck on winning

requesting your personal information so you can receive your prize

Links leading to dangerous websites
In some Instagram giveaway scams, con artists imitate someone who is hosting a contest or take over their real account. Due to this, it's crucial to constantly exercise caution and avoid disclosing any personal information to someone you don't know.
4. Crypto scams: Nowadays, it's practically easier to visit the web when you come across some cryptocurrency. Sadly, fraudsters have been tricking Instagram users by using the rising popularity of cryptocurrencies.
Features of an Instagram cryptocurrency fraud include:
messages in your inbox from accounts promising to make you wealthy

Payment and personal information inquiries
You'll probably lose everything you put into these Instagram DM scams, and someone may steal your account and use it to defraud your friends.
5. Romance scams: It is also the part of Instagram scams. Romance scams, which are also referred to as "catfishing," might expose you and your account to hackers. These frauds can be annoying and frequently lead to both emotional and financial suffering. 
Following are some characteristics of Instagram romance scams:
DMs sent by a phoney account

long-term romantic dialogue

requests for money, gifts, etc.
Scammers may use complex falsehoods and social engineering strategies to trick you into parting with your money and personal information while conducting romance scams on Instagram.
6. Blackmail scams: In certain Instagram hacking frauds, con artists could attempt to use blackmail against you as a form of harassment or for monetary gain.
There are several characteristics of Instagram blackmail schemes.
Threats to divulge personal information

payments requested

claims that a hacker might access your files
When it comes to blackmailing schemes, the hacker may not even have the information they assert to have and is only attempting to intimidate you into complying with their demands.
7. Fake product scams: Regrettably, Instagram is frequently used in fake goods and online purchasing products. These fraudulent Instagram profiles often have a large following, giving them a more trustworthy appearance.
Fake goods con artists frequently use:
advertising and posts promoting bogus goods

Links to dubious web pages

requests for private information to complete the transaction
By providing the con artists with your personal information, you come at the risk of losing access to your Instagram account, receiving a replica of the item you purchased, and having your identity stolen.
8. Investment scams: Similar to cryptocurrency Instagram scams, many con artists use phoney investment offers to prey on those who might need a little additional cash. Therefore, this is why avoiding money-making scams or get-rich-quick programmes is not better.
Investment scams on Instagram typically include the following traits:
DMs from folks who look to lead abundant lives.

Promises of financial prosperity and affluence.

requests for a down payment, frequently made through mobile payment apps.
You'll probably never hear from the Instagram scammer again once they have your initial money, however, they will keep attempting to defraud other people.
9. Paid subscription scams: Paid membership fraud is a different type of scam to be aware of. You could be given discounted access to legitimate subscription services in these frauds.
Paid subscription fraud frequently entails:
Accounts that advertise everlasting or reduced subscription service access

Links leading to fake imitation websites

Payment and personal information inquiries
These frauds often advertise well-known membership services like Netflix, Spotify, and Xbox Live. Never enroll in a subscription service somewhere other than the website designated for that service if you want to be safe.
10. Fake job scams: Scammers tried to profit from the fact that many individuals lost their jobs due to the outbreak by advertising phoney job listings on Instagram.
Scams using fake jobs frequently include:
Texts from phoney recruiters

Links to counterfeit employment applications

requesting your personal information
Once you've provided the phoney recruiter with your information, they could use it to steal your identity, empty your bank accounts, or commandeer your Instagram account.
How to Defend Yourself From Instagram Scams? 
It seems complicated to protect yourself from these kinds of dangerous scams. But now you don't have to be concerned about it. Because now we are talking about some useful and simple ways that will help you to defend it easily.
1. Be wary of messages that request that you "donate" something: Fraud frequently refers to bank accounts, selling items, or requesting further personal information. For instance, you can be required to log into an account or pay for anything. Proceed with caution if you've received any emails or direct messages that seem dubious.
2. Two-factor authentication: By activating two-factor authentication, you can utilise a backup checkpoint for account logins after your password has been used. Moreover, you must log in and confirm at this step using a separate account or device that you own. There are many various methods of 2FA accessible, including text messages, emails, in-app prompts, biometrics, and even a physical USB key.
3. You should never log in using a message link:  Whenever possible, check into your accounts directly using an official URL. Particularly concerning an Instagram phishing email scam. The goal of con artists is to get you to click on the login button without thinking and respond hastily to the sense of urgency in their messages. Always pause before navigating to the actual URL. A genuine login will make it obvious whether there is a serious issue. Also, you may confirm by contacting the company via customer service by phone, chat, or official support email.
4. Never reply to communications without first checking for official accounts: To avoid Instagram scams, searching for verified accounts may help you identify real businesses and people (ones with the blue tick next to the username). Whereas, large businesses will connect to their official social media accounts on their main website. The lack of an Instagram link on their website can indicate that the company doesn't have a legitimate Instagram presence.
5. Be wary if a stranger starts following you: Several scams involve total strangers trying to close with you and win your trust. Immediately black followers who are unfamiliar to you. Even better would be to make your account private and restrict followers to those you don't know.
6. On all of your gadgets, use an antivirus application: If you visited a dubious link, you should take precautions against malware that could have infiltrated your device. Protection from such malware, viruses, ransomware, and even phishing is provided by programmes like Kaspersky Internet Security.
7. Create strong passwords: It's critical to develop strong passwords to make your Instagram account as secure as possible. This can help stop Instagram fraudsters from accessing your account through password-spraying or other means.
8. Shop only from verified accounts: Since Instagram introduced its shopping option, several companies have started to promote and sell things online. Sadly, con artists are feigning to work in the same capacity. Buy only from accounts that have been confirmed and have a blue checkmark, for your safety.
How Can You Report Scammers on Instagram?
On Instagram, it's easy to report a scam. Choose Report from the Options menu that shows next to the scammer's name while you are on their profile page.
Then, determine your report's motive in accordance with the guidelines. But take care—Instagram receives several reports daily and sometimes takes some time to respond. You could also block the con artist.
Conclusion 
By implementing all the steps in your daily life, you use your Instagram without being concerned about falling into any Instagram scams. But, be careful while publishing personal information on social media and keep it secure from unknown people.
In case you are already trapped in such a scam then don't hesitate to take professional help. Anuraag Singh is a well-known cyber expert in India who will definitely help you to come out of this digital trap