Netflix Phishing Attack [New Conning Technique]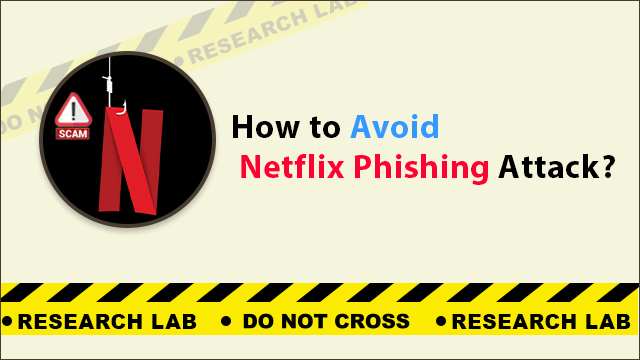 With time the usage of OTT platforms has increased. Among those Netflix is one of the most well-known OTT platforms worldwide. There are More than 200 million users are using this popular platform for their entertainment. If you are also one of them then it's crucial for you to know that through your favourite OTT platform daily thousands of people are getting scammed in the fraud of Netflix phishing attack.
Yes, you heard it right!
This time, again, Cybercriminals got successful in finding a new technique for conning people. They are targeting people by taking advantage of Netflix. So it's really important for all Netflix users to understand this scam. 
First, let's discuss the term phishing attack and Later we will look over a real-life example, Its working, safety measures and what to do if you fell prey to it.
Phishing Attack [Detailed Explanation]
Phishing is a form of social engineering assault frequently employed to obtain user information. Such as login passwords nd credit card details. It takes place when an attacker sends a text message, instant message, or email to the victim while seeming to be a reliable source in order to get them to open it. Next, the recipient is dupe into clicking a suspicious link. This might result in the installation of malware on the recipient's machine, a ransomware attack to lock it down, or the release of sensitive information.
An assault that can have disastrous consequences. For people, this involves the theft of money or identity and unauthorized purchases. Now let's take a look at the news of it. 
A Real-Life Example of Netflix Phishing Attack
According to

dnaindia.com,

A businessman from Mumbai fell prey to this Netflix phishing scam and lost around Rs 1 lakh. He received a suspicious email about a Netflix subscription from the fraudster. And when the victim realized that he was scammed immediately he filed a complaint about this scam.
How Attackers Carry Out Netflix Phishing Attack?
Now, in this section, we will be going to discuss the whole operating process of this dangerous scam.
At first, the scammer makes a replica email of Netflix which exactly looks like the official one. And then sent to all the Netflix users. 

That suspicious email looks this way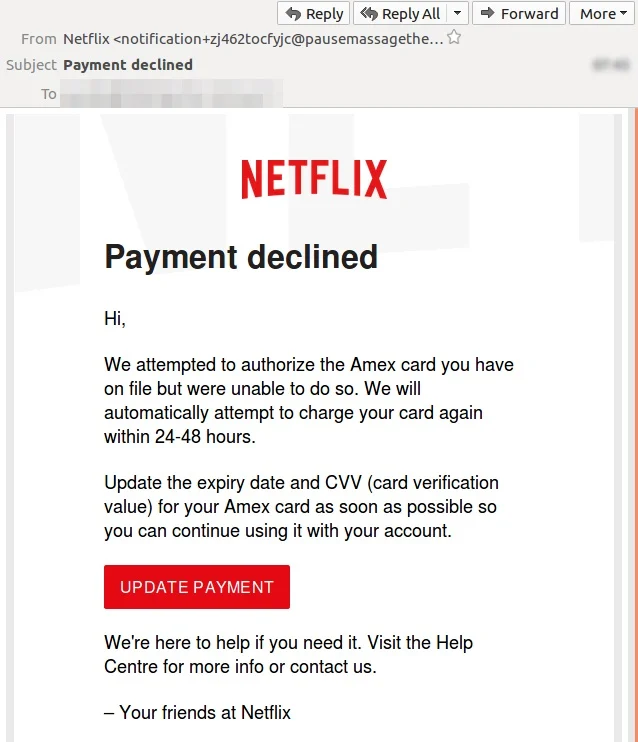 3. As you have seen these types of emails contain a red button or malicious links. If any user clicks on it he or she will redirect the user to an unauthorized website or might download the malware to the user's device. Through that fake websites or malware fraudsters will easily steal all the sensitive data of those users.
And this is how scammers defraud thousands of people.
How to Prevent Upcoming Phishing Attempts?
In our previous sections, we discussed the working of it. Now it's time to talk about some safety tips that will save you.
Be cautious while downloading email attachments, especially zip files as you cannot preview their content;

Before clicking any URLs, hover over them to see if they are directing you to a website or a local file;

Utilize a powerful antivirus programme that can detect and remove any traces of harmful code insertion.

Check the email address of the sender.

Look for urgency in the sender's tone.

Check to see if Netflix owns the landing page's domain.

If you're unsure, always try refreshing the Netflix login page and beginning the payment process there.

For expert advice you can get in touch with Anuraag Singh India's best cyber expert.
Now you might be thinking that what to do if I got scammed in this attack? You don't have to worry because, in our next section, we will going to discuss this. 
What to do if You Got Scammed in Netflix Phishing Attack?
By chance, if you fell prey to this scam you don't have to worry because there are some tips that you can follow. 
Cut off your internet connection:

To control devices that have been infected with malware, malware writers employ command-and-control (C&C) servers. To stop any more contact with the attacker's server, immediately unplug your device from the internet.

Directly contact customer support at Netflix:

if you got any doubts about an unknown email from Netflix go to the official website of the Netflix.
Conclusion
After reading this article, we understood that these days cybercriminals are targeting Netflix users. If you are also using Netflix for your entertainment then from now onwards you should stay aware of such Netflix phishing attack. And make sure you follow all the safety measures that we discussed above so that you can protect yourself. Stay safe! Stay alert!