Money Transfer Fraud in India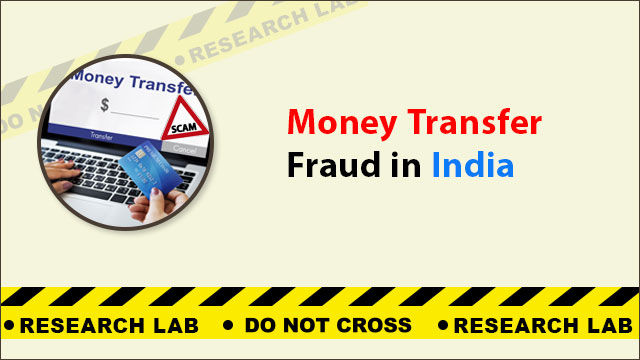 Summary: A guide to assisting you in avoiding money transfer scam in India.
Have you ever got an unusual email requesting that you contribute money to anyone in need? Or have you gotten a phone call informing you that you have won a monetary prize, but you must first supply certain banking information in order for the money to be deposited to your account?
In such a money transfer scam, the fraudster contacts you by email, phone call, WhatsApp, or SMS and convinces you into accessing harmful links for payment.
These faked bank URLs will appear almost identical to the legitimate bank URL, making them difficult to spot at first glance if you are not vigilant. When you follow the link, you will be sent to a fake webpage that will request your debit/credit card or net banking information in order to complete the purchase. Once they have your bank account information, they will take all of your hard-earned funds.
The Unified Payment Interface (UPI), a digital payment network that enables cashless, real-time transactions via mobile phones, is one of the channels witnessing an increase in fraud.
What exactly is the goal of money transfer fraud?
Money transfer fraud attempts to deceive you and get access to your bank account by providing you a link to one of the UPI payment applications such as PhonePe, Google Pay, or Paytm. Once you've select the application and enter the code, the payment will deduct from your account automatically. Typically, fraudsters get access to your bank account or withdraw funds from your debit/credit cards.
How can criminals commit fund transfer scam?
They may attempt to get your personal information in a variety of methods, including UPI scams, KYC frauds, and AnyDesk application frauds.
In UPI scam, fraudsters solicit clients over the phone to provide their debit card information, forward text messages, and share their UPI registration one-time password (OTP).
Also, in KYC scam, the fraudster may request that you complete your KYC for Samco Securities by sending you a link and requesting that you enter sensitive information.
In AnyDesk fraud, the programme grants a third-party access to your desktop/laptop. And the fraudsters may invite you to download the AnyDesk software and share a 9-digit number, granting them access to your account and allowing them to steal money.
How to protect against money transfer fraud in India?
Transfer funds to no-name accounts or to the personal accounts of any anyone pretending to be a Samco official. Always do a thorough examination of the email, SMS, phone call, or WhatsApp source and confirm that the message is coming from Samco.
Installing any software or sharing any pin with someone pretending to be a Samco executive is strictly prohibit. You may contact us via our support lines if necessary.
Also, avoid click on random UPI links shared by random Whatsapp, Telegram, SMS, or email addresses. Samco will never share a link to a payment transfer service via these channels. Our executives will only help you; nonetheless, you are responsible for transferring monies from the safe sources identified by Samco.
No executive can make financial transfers on your behalf. Never reveal your bank account, credit card, or UPI credentials with anybody.
What you have to do if you have been scammed?
Register an internet fraud case immediately with your local police station and obtain a copy of the FIR.
Simultaneously, you must notify your bank of the situation and ask them to reverse the money transfer to the fraudster.
Alternatively, you can file a report with the National Cyber Crime Reporting Portal.
Additionally, you may review this paper from the RBI. This contains the contact information for nodal authorities that can assist you in filing complaints against online fraud;
https://rbidocs.rbi.org.in/rdocs/content/pdfs/LNA100112C.pdf
Nowadays, fraudsters have left nothing. They defraud consumers in practically every manner available, including online personal loan scam, online banking fraud, and more. As a result, it is critical for individuals to be aware of it.