Anti-Spy Microphone Detection Service : Reliable & Secure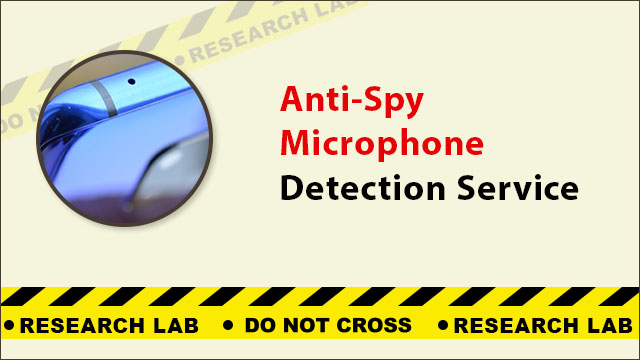 Do you suspect someone is eavesdropping on your personal information through your microphone? Breathe a sigh of relief by using the anti-spy microphone detection services by a trained professional. 
From sending a text to paying bills, your digital companion makes the task easy for you.
So, it's not hard to guess that most of you must be keeping your phone at an arm's length.
Isn't it?
However, the benefits gained from mobile phones shouldn't make you forget the need to be aware of the rising cyber attacks, which are particularly targeting the microphone.
More importantly, what if someone hacks your microphone? Can you think of the outcomes of the same?
Well, to put it in a sentence, your mobile will act as a personal stalker. But, who wants themselves to be heard or watched all the time? No one!
Hence, going for anti-spy microphone detection services recommended by Anuraag Singh will help you in securing the in-built microphone in your device.
Before that, let's discuss how cyber spies are accessing your mic?
Different Ways Through which Spyware Bug your Microphone 
Now that the hackers have become smarter, they utilize various methods not only to gain access to your phone but also to tamper with the microphone.
1. Malware Apps are becoming Handy Tools for Hackers
Concerning an article published in EconomicsTimes, "India has banned more than 59 apps including TikTok, PUBG, Cam Scanner, etc. The reason was, they were spying through the microphone and camera to invade the privacy of the users."
Also, the malware apps developed by hackers were 'prejudicial' to India's integrity and national security.
Thus, to be on the safe side, the government of India is now coming forward and considering the security services of the Cyber expert of India to overcome such issues. 
Through his anti-spy microphone detection services, many Government Agencies like Customs Airport and Air cargo, NCB, GST Department, etc have confidently overcome the fear of losing confidential files.
2. Encrypted Email could be their Weapon
You must have heard about Email Encryption. It is the process where mail is disguised in the form of code. By doing this, it unauthorized anyone from accessing the code illegally.
Moreover, hackers, these days are targeting emails to get access to the microphone.
With the help of the encryption key, they can easily slip into your phone via email and tamper with the microphone to secretly listen to your conversations.
But fortunately, services like Live Spyware Scanners offered by Anuraag Singh are available through which you can safely recognize a series of hacking attacks. 
So far, you know the possible ways of attacks can be performed to hack your microphone. Along with this, we have also discussed how the anti-spy microphone detection service of a trained professional can be of immense help. 
Let's' discuss them further in detail.
Anti-Spy Microphone Detection Services Offered by Anuraag Singh
Finding the right security solutions for your concern is important. Hence, with the help of Anuraag Singh, you could easily tackle cyber criminals.
Undoubtedly, his anti-spy microphone detection services will counter-attack the malicious intention of microphone hackers. 
Some of the services provided by him include:
1. Advanced Audio Forensics
Here, he focuses on Audio/sound masking.
It prevents unauthorized access to personal or highly classified information.
Audio masking allows both individual and security & compliance officers to secure confidential information.
2. Mobile Anti-Spy Detection Services
If your microphone is infected with spyware, then your phone will be analyzed entirely by him, using advanced chips to detect the frequencies of the microphone. This will help him identify the malware.
Once the expert detects the virus, then it will be an easy task for him to remove it.
3. Bug Sweeping Services
This is a counter-surveillance technique to detect and debug the malware from the phone that is eavesdropping. Many IT geniuses like Anuraag, practice this technique to sweep the unwanted software that is hiding in the device.
Moreover, if apart from anti-spy microphone services, you are looking for support because of any other kind of malware in your device. Then, other services of Anuraag Singh as discussed above like Live spyware scanners, Spam Recognition services could be of tremendous help.
Most importantly, your slight ignorance towards the unusual behaviour of the microphone could make you pay a heavy price. You can't imagine what damage it could cause if your phone's microphone is exploited!
Let's discuss some of the impacts of a bugged microphone.
Consequences of Microphone Spying
As of now, you might have gathered an idea about the fact that your mic can be bugged
So, let's think of the scenarios where hackers can leak your sensitive information:
If an intruder gets the command over your mic, he can easily track your day-to-day activities. 
Moreover, they can remotely activate your mic and record private conversations. Later on, they could blackmail you for the same.
Also, they can extract the information related to your online login credentials to steal your hard-earned money.

Likewise,

just

imagine another situation, your company is conducting a business meeting related to a product launch and one of the employee's microphones is being manipulated

.
Certainly, you can do the aftermath. Hackers could leak your business plan or highly classified information to the competitors.
On a serious note, if cyberspies have the access to the microphone of a government official who handles the budget report of the nation. Then it can cause a huge financial loss to the nation.
To tell you in short, watch out for the cybercriminals out there. They are waiting for an opportunity to invade your privacy by making your microphone a medium.
But, unfortunately, if you become the victim of the same then don't hesitate to seek Anti-Spy Microphone detection services.