Matrimonial Scams in India Rising – Be Aware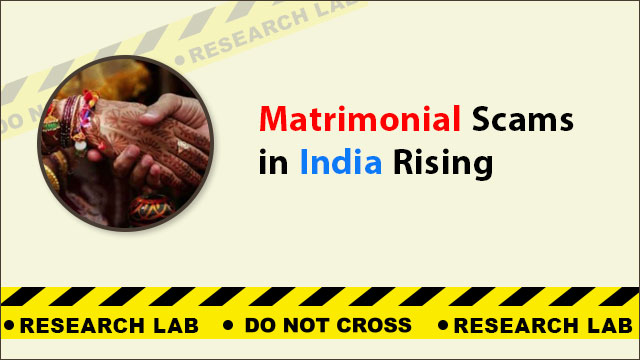 Due to an increase in the number of matrimonial scams in India, the Police Department has issued a warning to prospective brides and grooms to help them avoid being defrauded of their money.
The police reported 16 cases of scam on matrimony websites in the year 2021, according to police statistics. Officials, on the other hand, feel that the true figure is significantly higher because many complainants are embarrassed and choose not to file a complaint.
Fraudsters frequently target elderly ladies and men who are desperate to marry. They frequently claim to be employed in foreign nations, which makes verification much more difficult. Once they have identified the target, the fraudsters befriend them and earn their trust before beginning to defraud the victim," a senior police official explained.
Remember to avoid becoming a victim of Matrimonial Scams in India
The Most Frequent Scams to Avoid
Fraudsters befriend women after creating an exciting online matrimonial profile and acting as a possible husband. They strategically employ voice-changing applications to impersonate the bridegroom's parents and guardians when speaking with the woman they are attempting to defraud. Once they have gained women's trust, the scammers request money transfers into their bank accounts, claiming an emergency. They vanish without a trace as soon as the funds are deposit, and the cycle repeat for the next victim.
The fraudsters modus operandi
They create confidence and become acquainted with the ladies via e-mails, online chats, and occasionally even phone conversations. They then propose marriage and create a tale about how the presents and foreign exchange they were bringing into the nation were intercepted at the airport and must be cleared, and they are in desperate need of money. Occasionally, they may claim that a family member has become ill and is in the Intensive Care Unit (ICU) and they want immediate financial assistance, which will be refund shortly. After hearing such claims, the women fall for the bait and electronically transfer the money to the fraudster's bank account, and the narrative stops there.
How can you tell whether an online matrimony site is a scam?
Encourage people to Register on our website by spreading the news.
They are unwilling to display their face and are also hesitant to participate in video chats.
Unwilling to meet in person for the sake of a prospective one-on-one contact.
The majority of fraudsters that establish false identities and swindle money are of opposite gender, so exercise caution.
Express "love" immediately, even if you do not completely understand one another.
When we ask for his or her personal information, we may appear inconsistent or perplexing.
Without a compelling cause, nobody is in a crazy rush for an early marriage.
Begin by questioning about your property and income and demanding payment.
How to prevent yourself from fake matrimonial fraud?
As matrimonial scams in India are increasing, it is always prudent to remain vigilant. You should do the following actions:
Complete Profile Review: The profile you liked on an online matrimonial service may turn out to be your soul mate. As a result, it is critical that you do a complete profile check. Examine their residence, schooling, parents, and place of employment to see whether the tale given online corresponds to the background check. Pay a visit to their place of employment. Conduct an extensive personal reference check. Additionally, you should examine their social media presence.
Always Search for 'Verified' Profile: Numerous matrimonial websites offer verified profiles that have been properly vetted by and confirmed by professionals. Ideally, you can advance a discussion with someone who possesses a confirmed sign. Marriage is a once-in-a-lifetime choice. If you believe the other person is pressuring you to move rapidly, be tough and take a back step.
Never Give Someone Money: Please do not send any money to the potential bride or groom. As soon as someone asks for money, you should be wary, and it's best to ignore any additional calls from them, regardless of what they say.
Keep your personal safety in mind before meeting in person: It is advise that you meet prospects in well-lit public areas. Maintain constant communication with your family on your encounters with prospects.
How do you complaint online fraud in India?
Online Complaint for Cybercrime. Inform the Police Cyber Cell about cybercrime.
Navigate to the cyber cell's website at https://cybercrime.gov.in/.
For crimes against women and children SELECT WOMEN/CHILDREN-RELATED CRIME.
Select ANONYMOUS REPORTING or REPORT AND TRACK.
Select the option to File a Complaint.
After reading the information, click Accept.
Complete the fields requested in the Menu.
SAVE & NEXT OPTION Enter Suspect Information
To preview and submit your entry, click the Preview & Submit button.
Select the Submit Button.
Final Words
Numerous sorts of cybercrime are rising on a daily basis, including identity theft, online shopping scams, and cyber sextortion etc. Thus, it is always prudent to exercise caution when utilizing the internet.