Received Verification Code from WhatsApp – It's a New Scam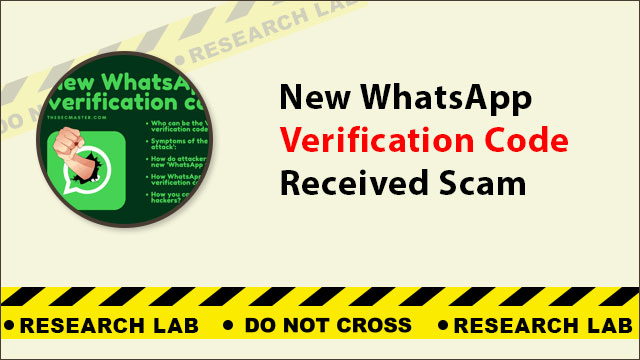 Have you received verification code from WhatsApp without even requesting it? Please be careful. It's a new WhatsApp scam.
Scammers are focusing on WhatsApp users in an attempt to get access to their accounts and messaging.
We'll go through the specifics of how this scam operates and what you should do if you're a victim.
Received Verification Code from WhatsApp Scam
When you get a six-digit verification code by text or email even though you didn't ask for one, you're more likely to be scammed by someone posing as a friend.
Because the scammer will already have access to a friend's account. Which includes you as a contact, they may attempt to communicate with you using this kind of deception.
The fraudster will ask you for a six-digit code that they have provided to you 'by accident,' according to the scammer.
According to various reports, victims who are targeted by the scam receive a message that looks much like the one seen below:
"Hello, I'm sorry, but I sent you a six-digit code by mistake. Please send it back to me."
WhatsApp has said explicitly that you will only receive a six-digit verification code if you need to authenticate your phone number or set up your account on a new device – so do not transmit it to anybody if you receive one unexpectedly.
The scammer has requested the code in your name, and if you submit it, they will obtain access to your account.
Due to the fact that WhatsApp accounts are typically pack with personal (and even financial) information, the scammer might then attempt to swindle you – or your connections.
Also Read: Excuse Me, Who Are You WhatsApp Message Scam
How to prevent being a victim of this WhatsApp Verification Code scam?
Let's have a look at the received verification code from WhatsApp scam prevention tips:
This scam is rather unique in that fraudsters approach people through their friends' accounts. Which makes it perhaps easier to catch potential victims off guard.
And, given how frequently you communicate with that person, an unexpected message out of the blue may not be a red signal.
It is critical that you never reveal your WhatsApp verification code with anybody, even if they request it. You should contact them or send them a message (do not use WhatsApp) to inform them that their account may have hijack.
Additionally, you should both enable two-step verification, which helps to strengthen the security of your WhatsApp accounts.
To enable this function, enter WhatsApp settings, navigate to Account, select two-step verification, and then click enable.
Before submitting an email address, you'll need to enter a six-digit PIN and confirm it. Continue by clicking next, verifying your email address, and then tapping save or done.
The Final Words
Social media and other types of cybercrime are on the rise, with incidents such as Zoom account suspended fraud, Online Romance Fraud, and others becoming more common. The greatest Cyber Crime specialists usually advise staying up to speed with the latest developments. It is important to use caution at all times when using the internet.