Rediroff.ru link WhatsApp Scam – Please Beware!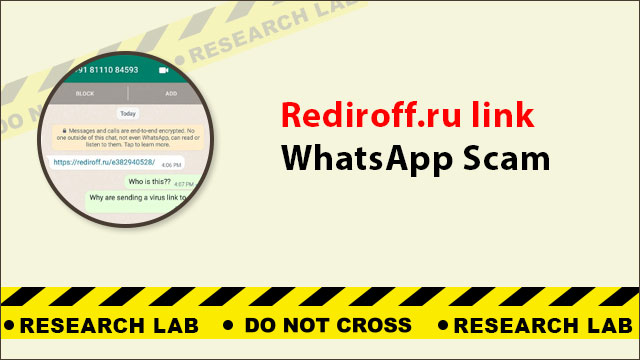 There's a new fraud emerging over WhatsApp "rediroff.ru link WhatsApp scam" – and it's taking people's personal info!
If you get an email with a link to either rediroff.ru or rediroff.com, be on the lookout since it is a phishing scam!
What is Rediroff.ru link WhatsApp scam?
Rediroff.ru WhatsApp Scam is a phishing scam that employs social engineering strategies to lure unsuspecting people into completing online surveys. Fraudsters propose a prize for completing a brief survey. This fraud is design to steal crucial personal and sensitive details from victims.
Rediroff.ru pop-ups may infiltrate desktops, Android/Apple smartphones, and other connected devices when users visit fraudulent websites – via push notifications, spam Whatsapp messages, or by mistyping a URL. They may be presented to consumers via adware or PUAs (potentially unwanted programmes) that users may install unknowingly when downloading free or pirated software.
How Does Rediroff.ru link WhatsApp Fraud Works?
The hyperlinks will take you to a fraudulent website. On the site, you'll be offer to take a brief quiz in exchange for a chance to win a large reward – frequently an iPhone or something equally coveted. However, once the questionnaire is done, you will be prompt to supply a wealth of personal information (under the pretence that it is required for delivery of the prize). Your prize, however, will never be deliver, and the scammers will have access to all of your personal information, which they may sell or use to perpetrate identity theft.
Additionally, this fraud is rather sophisticate. Prior to receiving their "reward," participants are expected to share their achievement with their WhatsApp connections. Although they are unaware, they will be posting a link to either rediroff.ru or rediroff.com, providing fraudsters with further opportunity to steal people's personal information!
Also Read About Other Scams

Excuse Me, Who Are You WhatsApp Scam
How Users Can Prevent from WhatsApp Scam Rediroff.ru?
When a person receives a spam link with the domain Rediroff.ru in the URL. They should report it as spam and remove it immediately. They should analyse their devices for malware or possibly undesirable software if they mistakenly click on it.
If consumers see adverts in locations where they should not be and are route to questionable sites every time they conduct a browser search, this indicates that malware has already infiltrated their devices. They should promptly delete any malicious programmes from their iPhones at this time.
If your Whatsapp messenger frequently shows or delivers the Rediroff.ru Whatsapp Scam. Then Adware or PUAs may have been install on your device. Adware is a sort of malware that can cause your Android device to malfunction. This can generate many more pop-up, banner, pop-under, and in-text link advertisements flooding your web browser; collect your personal information such as login credentials, online searches, and so on; run in the background and slow down your Android OS's performance; and provide additional opportunities for other adware, PUAs, and malware to infect your device.
In Conclusion
Scams such as the Facebook fraud, the Zoom scam, the Twitter scam, and others are prevalent in today's environment. Please keep yourself informed about every cybercrime. It is critical to raise awareness about cybercrime at the moment.