Can Hackers see Through your Phone Camera? Measures to Protect Yourself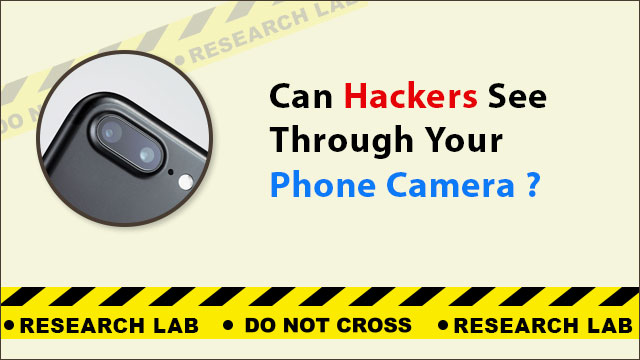 Is your employee spying on you to pass on information to a competitor maliciously? Or is your partner whom you laid your trust on gathering your personal photos to blackmail you later? If the question "can hackers see you through your phone camera?" has popped into your mind, then take precautions before it's too late!
Whether it's a business meeting or a virtual gathering, after the pandemic, the preferred mode of communication is via mobile phone.
So, what do you think is the primary component of your phone being used to be a part of the face-to-face meetings? 
Yes, you guessed it right, It's your camera!
But, sometimes a doubt, "can someone hack my phone front camera and record me" might have crossed your mind.
Then, you are definitely correct. It is possible!
Hackers are becoming smarter day by day with the advancement in technologies. Most importantly, they are targetting cell phone cameras to spy on you.
Now, the following questions would be flooding your mind:
Why do hackers want to see through my phone camera and how to know if your phone camera is hacked? 
Also, how to protect your phone camera from hackers?

Well, stay with me as it's a matter worth discussing!
Why do Hackers Want to See Through your Phone Camera? 
There must be some motive of these attackers involved in bugging your phone camera. It's important to know their intentions before moving forward and knowing the solutions.
One of the reasons might be the

Government officials

who want your phone to be tracked for security reasons. 

Another reason for hackers to break into your phone is to

negatively impact

your life.
For example, it is possible that your partner or employer might have hired a hacker to bug your phone camera and track your activities.
But, the main reason why intruders sneak through your phone camera is to

steal your sensitive data

such as private photos, current location, financial statements, etc. to use it against you.
If we discuss its consequences, people have lost millions of dollars to these hackers. Also, were forced to get down on their knees to protect their dignity. 
So, don't you believe it's essential to protect yourself from these attacks by not letting anybody access your phone camera? 
Ways to Secure your Phone Camera from Hackers
Hackers may apply multiple techniques to break into your cameras. But, there is always a ray of hope to deal with the same.
Let's discuss some of the ways to protect our cameras from intruders:
1. Lock your phone with Strong Passwords
A strong passcode will keep the hackers at bay.
So, try to use a 6 digit number combination while setting your phone pin. This will make it impossible for the hacker to guess.
In addition to that, you can set a FaceID to securely lock your phone.
2. Avoid Downloading Dedicated Audio and Video Chat Apps
According to a security professional, Cody Feng, "Every time we install a newly launched app, we are making it easier for the hacker to invade our privacy. We call this 'attack surface', there is no harm in reducing the same''.
Mostly, the apps like Zoom, Skype, Google Hangout, social media apps use your device camera to make a video call. 
So, my suggestion would be to limit their usage or if possible declutter the apps that you are not using.
3. Keep an Eye on the Device Permission
When you install any app make sure to keep track of all the app permissions from time to time.
This includes the camera and mic access, granting location permission, etc.
In my opinion, block unnecessary app permissions!
What to do when all the above measures also don't bear fruitful results?  What if the hackers cleverly hacks your device and see you through your phone camera even after being careful?
An Expert's Advice will Leave you Better Protected
The services of the cyber expert Anuraag Singh are multi-faceted. 
Not only does he inform you if hackers can see you through your phone camera, but he also terminates the intruders from accessing your phone camera. 
In his 21 years in service, he has helped a significant number of people through his professional services. 
To date, he has solved 200+ cases related to mobile phones like protecting them from malware like spyware, adware, malicious mobile viruses etc.
His in-depth expertise has also helped him gain the trust of many recognized high-ranked officials and Law enforcement Agencies. 
Moreover, he is also assisting the LEAs and police officials in mobile forensics, email forensics, etc since 2007. 
However, even though protecting yourself from these activities is important. It is also crucial to understand the different ways through which hackers can see through your phone camera. This makes you prepared the next time you are the one targeted.
Ways Hackers See You Through Your Phone Camera
In the digital era, almost everyone uses a smartphone that has a front and rear camera.
However, cybercriminals are following smart ways to gain access to the camera of your cell phone.
So, it is important to know what these possible ways are through which hackers can slip into your device camera. 
One of the access methods could be through

Public Wifi.

This is due to its unstable and insecure network settings hackers can easily get into your device camera.

Secondly, somehow the hacker gets access to your phone

physically.

Then, it will be like icing on the cake for him,

since now he can tamper your confidential photos

and data effortlessly.
The above two methods are some of the ways through which hackers can keep an eye on you through your phone cameras. 
But, don't you think there can be other methods through which someone could watch you, like making the social media platform a midway? 
Well, they definitely could!
Social Media becoming an Entry Gate to Spy Through Phone Camera
Before going in-depth, l assume that everybody must have heard about 'App Permission' that pops up every time you install any app.
Also, these app permissions ask for your approval to use your camera and microphone.
However, this depends on you whether to grant the access or not!
Now, this reminds me of intriguing information heard before,
You might remember the Instagram scandal in the year 2020. "The popular social media platform Instagram was caught allegedly using the owner's camera and mic to invade their privacy that put Facebook (parent Company) in a distressing situation ".
You had laid your trust on Instagram. But, unfortunately, it backstabbed you by invading your privacy.
The above incident must have made you think other social media apps that ask permission to access a camera or mic, may easily tamper with your information.
Well, you are correct and need to pull up your socks to tackle these clever minds.
Hence, knowing the ways to recognize whether your phone camera is being tampered with or not, would be a great help.  
How to Know if Hackers can See Through your Phone Camera?
Let me ask you a question. 
Does it ever happen to you that you are using your phone, and suddenly it automatically turns off?
Then, there is a possibility that someone rigged your camera!
The above concern applies to both Android and iPhone.
Usually, Apple phone cameras are more secure but someone might hack them too. So, search carefully for the green light that turns on every time the camera or video recorder is accessed. 
Moreover, if you see any unusual behaviour on your camera then there might be a case of your phone camera being hacked. 
Well, there is a piece of good news for iPhone users! With the latest iOS 14 updates, it lets the users identify when their cameras are being used.
Even though security is being provided by phones, you need to be secure on your end. So, taking precautions and protecting yourself is important. However, if you are in a distressing situation, taking help from a cyber expert is always advisable.