Top Anti-Hacking Services Provider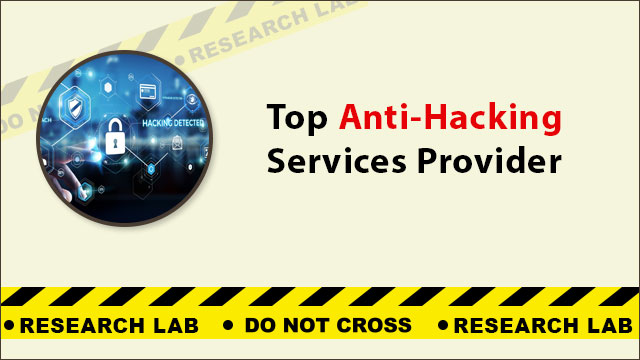 Uncover how expert anti-hacking services protect your cyberspace and keep cybercriminals at bay.
In the fastest-growing digital age, every detail is stored on electronic devices in the form of data. And to share or exchange those data, you rely on the internet. In other words. you can say that your everyday life is on the internet.
As everything is online now, you can't deny the fact that hackers out there are waiting for the opportunity of a security breach to get into the computer systems or other electronic devices to steal sensitive information. 
Hence, keeping the increasing number of cyber threats in mind, it becomes essential to adopt cyber security services like Anti-Hacking Services.
Nowadays, underestimating the capability of cybercriminals would be an unwise thing to do. Those sophisticated hackers can cleverly sneak into your device without being noticed. Despite the challenge, Anuraag Singh and his team have the necessary skills to beat those hackers and protect your devices from cyber threats through his expert anti-hacking services.
However, before going in-depth about anti-hacking services, let's first understand various cyber threats and what information of yours could be at risk?
Cyberthreats and the Motives Behind it
As cybercriminals, their main targets are computer devices and network systems. For network breaches, hackers prefer a Man-in-the-middle attack. This attack can compromise the most vulnerable information(personal and professional). 
Also, in the corporate world, everyone wants to remain in the first place in the rat race. For that, the competitors are taking the help of cyber espionage attacks to steal their business ideas, source code, or other important information.
Furthermore, cybercriminals are taking advantage of the COVID-19 situation. Through social engineering, they are manipulating and exploiting human errors to accumulate private information, access, or valuables.
Above are some of the hacking methods that cybercriminals use to break into your devices. The main concern is that they don't stop here. They keep on inventing new methods and ideas to exploit electronic devices.
For that reason, to outsmart these attackers, the Cyber Expert of India has come up with some counter-attack techniques in the form of anti-hacking services. 
These services will let you sleep and work in peace.
Anti-Hacking Services by Anuraag Singh
Hackers are continuously in the search of a back door through which they can enter a network of computers, phones or could be any other devices. And unprotected devices are like open gates for them to access your emails, social accounts, etc.
Hence, being an IT expert he understands his responsibility towards cyber security and devised many services which will let you work with ease.
Now, let's have a look at the services.
1. Vulnerability Assessment & Penetration Testing
This service includes the identification of real-world threats (which could make you compromise your sensitive data). 
However, in the assessment process, the authorized hackers will create a testing environment, and then try to penetrate your computer security system to review various security parameters needed. 
So, through this test, you can check the probable vulnerabilities and compliance requirements on your system. After the assessment, you can rate the severity level of your security gaps according to the test report. Moreover, through professional help, you can easily cover those gaps.
2. Ethical Hacking Training
Technology and technical education are a great mix to beat the ill-intentions of the intruders.
Hence, in ethical hacking training, the trainees learn to think, act and move like a hacker. Then, after becoming proficient in ethical hacking you will be able to protect yourself and your organization (if you are working in any) from cyberattacks.
3. Security Testing for Mobile
There are various ways through which hackers can gain access to your phone. Some of the ways involve tapping your phone, planting spyware, etc.
Hence, Anuraag and his Mobile Forensics Team who are well-versed in a range of mobile technologies can secure your phone from the above-mentioned threats. They will perform a complete data storage and vulnerability analysis. Also, Mobile API testing will check and block the malicious links that hackers send through emails and text messages.
4. Wireless Security
This service will secure the devices from Bluetooth exploitation. In addition to that, wireless security services will prevent unauthorized access to either computer data or any other devices.
Vulnerability analysis is also part of the service that will give you the details of possible threats in the wireless network.
5. Web Application and Server Security
Unlike computer-based application software that runs on OS (operating system), web applications run on a web server. Web applications can be in online forms, spreadsheets, file conversion, email programs like Gmail, Yahoo, etc.
Hence, as web applications and web servers carry sensitive data, protecting these become essential.
Through this anti-hacking service, the cyber security professional will first review the applications & servers. Then will point out the security breaches and will suggest what can you do to fill these gaps.
6. Infrastructure Security
Infrastructure in this case IT infrastructure is the backbone of every organization and individual. The components of IT infrastructure include hardware, software, networking component, operating system, data storage, etc.
As you can see almost every component comes under infrastructure. Hence, any weakness in IT infrastructure may collapse your business growth.
But, thankfully, Infrastructure security will cover scanning of all the elements such as IP networks, extranet, intranet & VPN; DNS servers, and finally Extensive vulnerability analysis. This will give you a complete set of ideas about the loopholes in your security system.
To summarize, you can avoid possible unpleasant consequences of cyber threats if you take precautions beforehand. Hence, Anti-hacking services will definitely protect you from ongoing cyberattacks.