Anti-Mobile Phone Tracking Services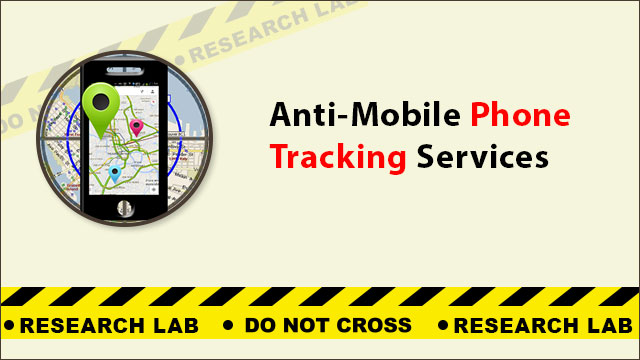 Smartphones, an essential part of life, are carried everywhere. A device that holds a camera, microphone, GPS, calendar, etc for day-to-day use (personal and professional). Unfortunately, some people are using these features of the phone for various motives, mainly for tracking. And, it depends on the sole motive of the tracker that why is he/she tracking you through the phone. Despite this, the anti-mobile phone tracking services act like a warrior and stands tall to safeguard your device from being tracked.
However, you can be more cautious next time, if you know the people/organization behind tracking your phone. 
Who can Track your Phone and Why?
1. Advertisers
Nowadays online marketing is becoming a new trend. Irrespective of the size of the business everyone takes the help of advertisers to brand their product.
For that, advertisers track the phone to trace the activities of the users through various websites and legitimate apps. This helps them identify the demand for a certain product. They convey the information to their clients that boost the business growth.
2. E-commerce organization
Has it ever occurred to you that you just searched for a product on Amazon and you keep on seeing the product on social media apps as an advertisement?
Well, this is because Amazon is trying to sell its product. But, how come you see the products on other apps? The answer is that it is tracking your phone and website cookies. This is possible because you might have given either App or website permission to do so. 
3. Tech Giants
Every time you come out of a restaurant it asks for the ratings. How? Since tech giant Google keeps tabs on the places you visited by tracking the location on your phone, it is not much of a surprise anymore. 
However, nobody is going to stop using the 'search guru' Google. Hence, keep an eye on the location access permission on your cellphone. 
4. Mobile Companies
Be it Android or iPhone, every mobile company keeps track of the performance of the phones they launched. To come up with new software updates and enhance the features they track your phone from time to time.
5. Hackers
Not everybody has the good intention to track your phone. Through malicious apps, hackers not only track your phone but also extract sensitive information. They achieve this by bugging your phone camera and microphone, installing spyware, through Bluetooth and WiFi, etc.
Don't you feel having knowledge of the anti-mobile phone tracking services is important for you? Since this is a matter of concern as your private information is at stake.
Apart from hackers, corrupt police officers can also track your phone for illegal activities. According to the news published in Times of India in 2020, 'Head constable, AG Prabhakar was arrested for colluding with the drug peddlers by providing call records and location of individuals. And he did the same by tracking the mobile phone.'
As you know who is tracking your phone and let's understand who will come under which category with respect to tracking.
Two Types of Mobile Phone Tracking
There are two variants of tracking;
1. Consensual Tracking
In here, you are explicitly granting permission to the Apps to access your current location and track your phone.
For example, when you book a cab using Ola or Uber you are intentionally approving to know your GPS location. Or when you voluntarily install an app to track your child's phone, you are intentionally allowing the app to track the device.
Secondly, online food delivery organizations ask you for your location. Why not? If you want your food to be delivered in 30 min then they should know your current location.
2. Non-consensual Tracking
When someone tracks your phone without your consent then it will fall under non-consensual tracking. Here the intention is to install a malevolent app or tracking software on your phone without your knowledge. And this will help them to track all your activities throughout the day. Also effortlessly extract important information from the device. Thus, being aware of the anti-mobile phone tracking techniques is important to safeguard yourself in this digital era. 
The more provoking thing is that tracking software is hidden on your phone. But how?
How Does Tracking Software Enter the Phone?
In a number of manners, tracking software can make its way into your phone. 
However, the two common ways are as follows.
1. Preliminary Download
There is a chance that tracking software is installed the moment you download any app and install it.
This is possible because sometimes malicious app developers attach tracking software along with a gaming app. So, the instant you install the app the tracking software starts running your phone background. Anyway, iPhone users are less affected by this issue as the Apps-store restricts the third-party apps. Even though your mobile company is providing high-security features, there are still chances for the tracking software to enter your phone. For example, what if your phone lands in the hands of someone who wants to track your activity? They can easily install stealth tracking software that will run in the background without your knowledge.
2. During App Update
Let's suppose you installed a clean version of an app but later in time, it asks for an app update. And the malevolent app developers secretly link the unwanted software to the update. So, during an update, you may also download the tracking software attached to the updated version of the app.
As a result, you could lose your important details like pan card number, bank details, login credentials, educational certificates, business agreements, etc.
So, next time if you have the minutest hint of being tracked then don't ignore it, because your sensitive data could be at risk!
However, you can overcome these unpleasant situations if you take one step towards anti-mobile phone tracking services. 
Anti-Mobile Phone Tracking Services
From the above article, if someone is using consensual tracking then for some extent it is fine. But, if the mobile phone tracking is done to uproot your valuable information then that is an issue. So, the anti-mobile phone tracking service is going to save you from the trap of tracking apps and software.
You may ask how?
Well, cyber investigators are continuously watching the movements of ongoing cyber threats. So, they keep on researching and coming up with advanced services. In this case, through research and development, Anuraag Singh, the Cyber Expert of India has come up with an Anti-mobile Phone tracking service. Through this service, he will be able to detect the tracking software and will block it from tracking your location or any kind of activities that involves tracking.